What a Game
26 AUG 2019
What a game.
The distance from the front gates of Magna Golf Club to the front gates of Emerald Hills GC is a bit more than seven kilometers. It's actually about the distance we walk when we play a round of golf. Tee it up on one, putt out on 18. 7KM's – nothing to it. Let's do it again tomorrow.
But on the morning of Friday, August 23rd, that short distance came to represent the absolute breadth and power of golf. Two completely different worlds tied together by the game.
Day two of the CP Women's Open started at 7:15 at Magna off the 1st and 10th tees. The stars of the LPGA would be teeing off until 2:42 that afternoon. Brooke Henderson went off the back at 1:14. Meanwhile, seven kilometers away, another incredible threesome teed off at 10:09 at Emerald Hills including Todd Keirstead, our Champion for adaptive golf along with Eddie Urquhart, a double leg below the knee amputee and Matt Calwell, who is paralyzed from the chest down. Not your average three-ball on a beautiful Friday morning.
On the links these two men are not defined by injuries but rather by how they are succeeding with their abilities.
Eddie recently finished runner up in the Amateur World Long Drive Adaptive Division in Myrtle Beach, South Carolina. After suffering a near fatal motorcycle accident on July 15, 2016, Eddie has utilized the game of golf as a form of rehabilitation. And on this day he consistently pounded the ball over 300 yards off the tee.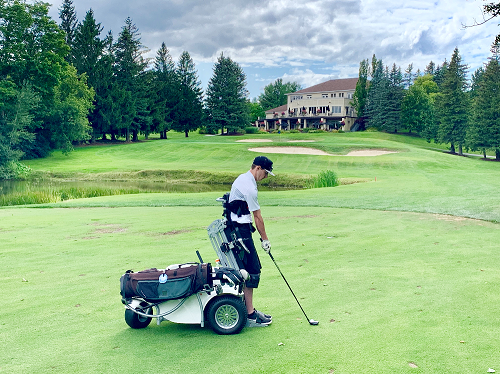 Keirstead summarizes, "I met Eddie in the summer of 2018 and was blown away with how much raw talent he had. I was even more amazed when I learned that he was just two years removed from a horrific motorcycle accident. I knew immediately that I could work with him to fine tune that talent into a more complete golf game."
22 year old Matt, with the assistance of a ParaGolfer, an all-terrain wheelchair that raises Matt into a standing position so he can make a more conventional golf swing, has the short game prowess that makes us all envious. He routinely hits approach shots inside 10 feet and received a round of applause from a group of Members that witnessed him hit his third shot into the par five fifth to within 3 feet! Oh, and he made the birdie putt.
At age 19, Matt was hit by a vehicle while walking with some friends. Given that his core is not functional, Matt utilizes his left arm to secure himself to the ParaGolfer machine and then swings the golf club with his right arm. A truly cool demonstration of athleticism.
Keirstead explains, "I work with wounded military veterans, individuals involved in vehicular accidents, stroke patients and cancer survivors. Adaptive golf is a key to healing, physically and mentally. It provides empowerment, independence, camaraderie and in some cases has even saved lives. I need all the support I can muster to help bring golf into the lives of individuals like Eddie and Matt. Adaptive golf in Canada is growing and to partner with ClubLink has been a real blessing. It is enabling me to champion programs to introduce or bring back game to those who thought it was lost forever."
So last Friday was a great day to celebrate our game and what it does for so many of us. Golf Canada has been invested in our game's future stars for a long time and Brooke Henderson is a shining star of the Team Canada development system. Perhaps Todd's work will continue to gain support and deliver more champions who need golf for different reasons.
We all look forward to what is still to come.
What a Game, indeed.