Turf News - June
14 JUN 2023
Well that has been an extremely busy month of construction!
We have completed one of our largest renovation holes on the property. 10 Copperhead has had a complete make over. A reduction in bunker surface from 24,000 sqft to 5,000 sqft, 25 Autumn Blaze Maples, 2 White Pines, and 1 Crimson King Maple planted, 300 tons of new bunker sand, 500 tons of topsoil, new irrigation, and of course our bunkers are lined with new gravel with polymer and upgraded drainage. We raised the subgrade of the green side bunker close to the pond so that the sand will stay dry and drain properly. We also changed fairway lines on the right side to assist in balls kicking to the right rather than into the pond. We created a small bent grass hollow to the left of the green. Many balls end up here and that shot to a severely sloped green with a pond on the other side is sometimes impossible. You can now use the putter and not fear the pond entirely! All the while in the making of a truly better golf hole.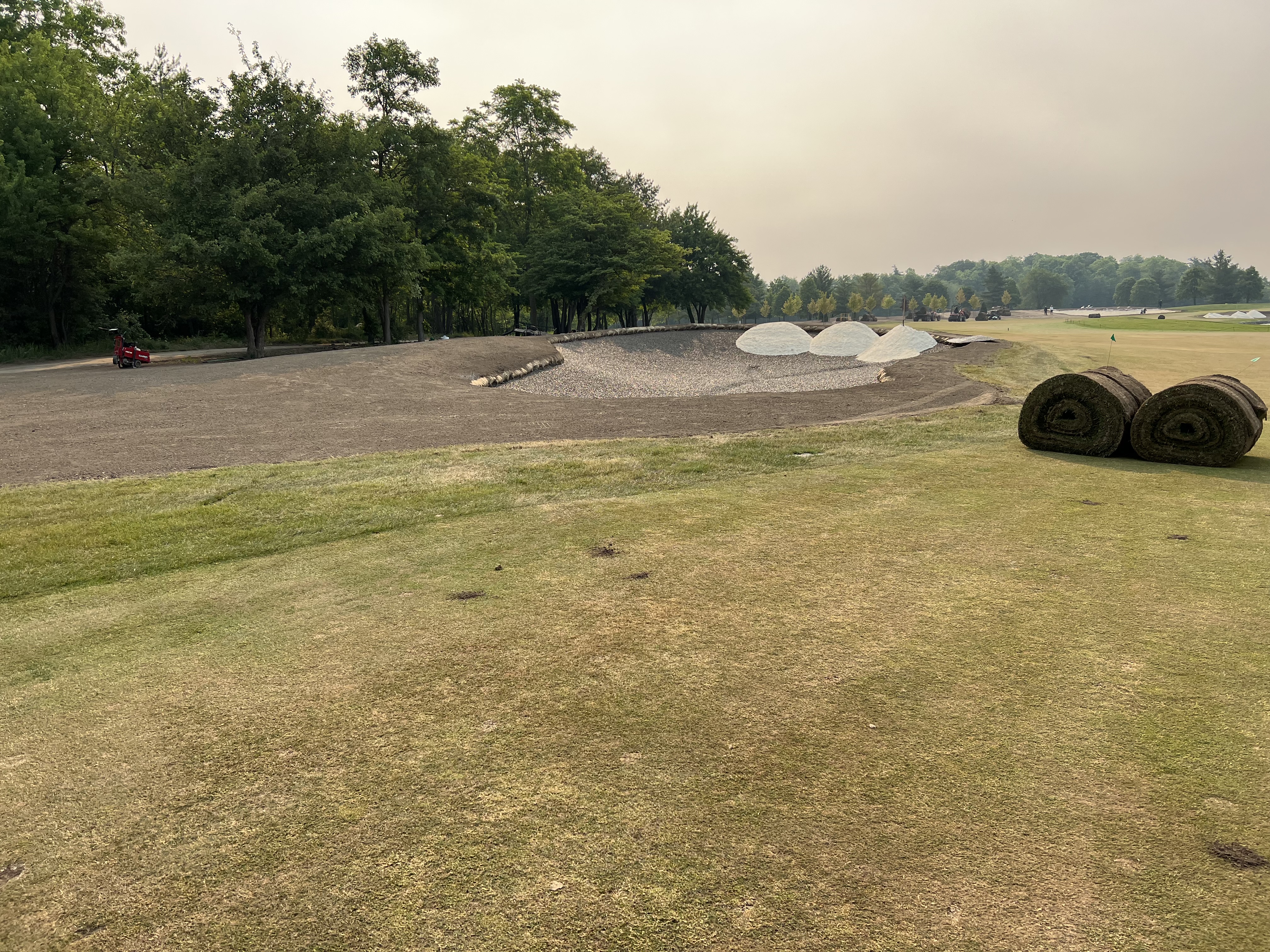 We've also finished up some of last Fall's work to Hole #4 Copperhead. Sod lines are finished at the lay up bunker and gravel, drainage and polymer installed, as well as new sand in all 3 bunkers. Grading and sod work are complete on the fill in bunkers on Hole #5 and #6 Rattler.
So where are we now!?..
Hole #11 Copperhead is under full construction. The left greenside is shaped and drained and we are installing sand this week. Sod work will be completed next week. The left fairway bunker on Hole #11 will be removed and graded with a slight fairway widening. That left side of the fairway will be planted with 25 to 30 new trees (pending size).
Hole #12 Copperhead has had the bunker short of the green removed. We are replacing the bunker with fairway sod and grading out the left side of the green with a new bent grass hollow to accept errant left balls. The severely sloped left to right green will make this hollow very much in play.
We will then be moving onto Hole #14 to 16 Copperhead. We are currently using fills created from Hole #12 to fill in the right side of the fairway bunker on Hole# 16. It is such a large cavity that we may have to use fills from Hole #14 and #15. Holes #14 and #15 should be somewhat of a fast turn around with construction. Not an extreme amount of change and smaller sized bunkers will have us out of this corner quickly.
During construction, certain holes we have to turn off irrigation in many zones. You will notice areas that will be very dry as we do not want to slow down construction with wet soil. Post construction, the holes will then be somewhat wet as we make an effort to recover from the traffic and drought.
Reminders about our new construction..
Please stay out of polymer sprayed bunkers. You will be notified by the starter about those bunkers. Even if your ball enters the bunker you must not retrieve it. I would suggest not using a new Prov1x and instead use an old ball that you are ok with leaving behind if you get into the bunker.
Please refrain from scaling the steep bunker slopes to enter or exit.
Be mind full of any newly laid sod and keep cart traffic off of these areas
Please be respectful of our contractors and turf staff. They do not want to be in your way and disturb you but our work does have to continue during play.
I would also like to take this opportunity to apologize for any inconvenience we are causing during our construction process. We are creating noise, dust, movement and disturbance. The sooner we can get this project completed, the sooner you will be back to a construction-free RattleSnake.
Bill McAllister
Golf Course Superintendent