They are called Super for a Reason
10 SEP 2020
Feature Article | By Mike Johnny, 36-A-Day Canadian Golf and Travel
It was the kind of comment that is likely made at many courses in Canada, often a critique to some aspect of course condition that players find unfavourable, "I don't know what the hell he does all day". This comment from one of my weekly playing partners at Hidden Lake Golf Club in Burlington, ON was shared during a mid-summer round and I responded (and I paraphrase), "I like firm and fast conditions. Also, we've had almost no rain all month and conditions to begin the year were less than ideal for Superintendents everywhere". But as I reflected on this later I realized that I actually know very little about the work of a course Superintendent and maybe I should educate myself. The best way to gain this education was through experience.
The alarm went off at 4:00 am; I had committed to meet Steve Sibbald, first-year Superintendent at Hidden Lake, for the day. I was going to job shadow, but offered to be put to work, all the while hoping to ask questions and gain insight on the scope and complexity of the role. My first takeaway, as I entered the maintenance area around 5:10 am, was this is no 9 – 5 job. The maintenance shed was abuzz and after staff had left for their initial assignments in the dark and damp fog of a cool August morning, Sibbald shared he's only had one day away from the course since March. Not exactly a job for the faint of heart.
In the fog and early morning light, a solitary mower works away on the first hole.
The Ontario Golf Superintendents' Association website presents key areas of responsibility for Superintendents with an important caveat that responsibilities are not limited to this list. Here, we see the usual management, repair and maintenance of the course – its landscape and equipment. Personnel and fiscal management are also included. Communication is another component, and one which Sibbald sees as a greater opportunity for course Superintendents to utilize. Lastly, recognition of environmental stewardship and course conditioning are identified. There is also a special section on the website specific to Covid-19 resources. Surveying this list, I'm struck by the incredible scope of responsibility which, as a golfer, I suppose I knew but certainly didn't appreciate. Further, there is a national association, Canadian Golf Superintendents' Association, and in addition to above, they oversee professional designations for Superintendents. This fact there are designations reflect industry standards, professionalism and credibility for the work.

5:15 am – Showing up on time clearly means you're late, as my arrival sees Steve engaged in a series of one-on-one discussions with his team to get them set for the day. My day begins with a tour of the maintenance shed. A new daily task is sanitizing all equipment before he leaves. Before we head out, Steve takes time to share with me part of his vision, left unfulfilled due to Covid-19, a detailed job board in the staff room. The room is now closed off in an attempt to restrict touch points.
The maintenance shed is clean and organized. Here, rough mowers sit clean and in a row. Fairway mowers are all out and workers head out before first light to their hole assignments.

As I look back at my four years at Hidden Lake, but also my lifetime as a public player, the role of course Superintendents seem to have little visibility and even less public engagement. Instead, it is the General Manager and Head Professional who play more prominent, player-facing roles. I have noticed that Sibbald has put his name to the role in a very public way, through active social media engagement, using Twitter and Instagram to share insights on the role. Sibbald shared he is seeking to educate and inform, both on the role of a superintendent but also to the unique and quirky aspects of maintaining one of the areas busiest public golf facilities.
6:07 am – Daily pump shed visit to get readings of the quantity of water which is pumped onto the course from adjacent Lake Medad (this is the 'Hidden Lake' and is also the name of the original course).
Thank goodness for a little early morning light. There are over 5 miles of irrigation pipes over the 36 holes of Hidden Lake, holding over 50,000 gallons of water for immediate dispersion.

The original 18 holes at Hidden Lake opened in 1962; a second course opened in 1979 which provided two distinct courses within one facility. The new course has hosted Great Lakes Tour events for several years. In 2014, the facilities were taken over by ClubLink, which centrally manages 50 golf courses in Ontario, Quebec and Florida. For a new Superintendent, it was a relationship Sibbald was comfortable with, "I have been part of ClubLink courses for over 20 years now", with early experience at Hidden Lake before making career roots in the industry at Greystone (for 6 years), and most recently as Assistant Superintendent at Glencairn, where he was for the past 12 years. With a golf course technician certificate program at Seneca College complementing his experience, he was hired in early 2020 to be Course Superintendent at Hidden Lake.
Hidden Lake is one of the busiest public golf facilities in southern Ontario, logging in over 75,000 rounds a year. Compared to the same time period in 2019, rounds played from mid-May to mid-August 2020 are up over 9,000 already – and General Manager Matt Belacca sees projections for reaching 80,000 rounds this year, even with a delayed start to the season. The challenge for everyone in the industry, including Belacca and Sibbald, was the May 14 announcement from the Province of Ontario that courses could open for play on May 16. Sibbald shared, "In less than 48 hours and with two staff, my priority was getting these courses open for play. I quickly assembled a team based on information passed down by the past Super. It was hectic but we were able to open, and open safely". Not exactly the way in which a first year Super would like to begin his tenure, but, seemingly fitting for a role in which normal has no bounds.
6:26 am – We're setting pins on the new course. With a staff member unexpectedly away today, Steve acknowledges this wasn't the plan for the day, but in this role each day is different and he doesn't bat an eye to this quick change. Managing 36 holes, practice facilities and 260 acres of property with a staff complement of 19 means sometimes you end up doing things that were not expected. The first group of the day teed off one minute ago.
It's a very small window to get certain work done before golfers tee off.

The relationship with ClubLink is one Sibbald hopes to strengthen and utilize more effectively in the future. "We're a network of over 30 Superintendents and there are excellent opportunities to exchange information amongst us". Of course, the busy hours of his day job may make that a challenge, he acknowledges (along with off-course administrative duties), but along with the Ontario Golf Superintendents' Association, his provincial association, there is ample opportunity for effective knowledge transfer and exchange.
Perhaps just as important is the role a mentor can play. Over the course of our morning, he spoke quite highly of his former boss at Glencairn, Doug Davidson, whose support and influence helped prepare him for this role. It is a responsibility he sees now within his new team, as one of his younger staff members is considering a similar career path. Our conversation about this was coincidentally broken up by a call where she had taken the initiative to triage and begin to address an irrigation leak. He shared with me his philosophy around mentorship and staff development, "I have 100% trust unless you give me reason otherwise".
7:25 am – I try my hand at cutting a hole on the par 5 7th. A sucker pin set behind the bunker, which is cruel I admit. Only time for a quick picture, no time to admire my handiwork as the first group of the day is approaching and they're playing fast.
My first and only pin set up for the morning. I focused more on identifying locations and left the set up to a more skilled professional. (That first group out were super quick!)

I asked Sibbald about his vision for Hidden Lake, and he said it is something that is formulating more clearly as he works through his first season as Superintendent. "I am at a staff complement of 40% and that is due to health and safety protocols driven by the pandemic. But I meet with Matt (General Manager) and Tom (Head Professional) regularly. Important, too, is our communication with ClubLink". These are relationships Sibbald identified as positive. He shared optimism and confidence in his ability to bring this club up to its potential – aesthetically, as a golf course with a focus on public play, and also financially where both Hidden Lake and ClubLink could further benefit from greater investment. But for now, Sibbald says, "the priority understandably needs to be on staff and player safety". Beyond that, "I am learning more and more about this course every day. I am seeing what can be improved through effort and what needs investment. I have an upcoming meeting with ClubLink, part of an overall course tour where the courses get evaluated. I will use that as a constructive opportunity to discuss proposed structural challenges, but also areas in which some investments of effort from a greater staff complement can greatly improve the experience for golfers".
7:50 am – Sometimes you just have to admire your office.

The issues which my playing partner identified in his letter (most notably inconsistent grass growth on some fairways) are things that Sibbald has acknowledged throughout the day. On the 7th hole, he shared with me challenges around irrigation, where the ground is struggling to accept moisture. Later, on the 16th hole, he showed how seeding and verti-cutting are helping to reintroduce grass growth to areas which are bare. Consistently throughout the morning he acknowledged problems and has taken ownership, providing details around the current situation, but sharing a commitment to address these. Reflecting as a member but also a former public player, that level of honesty and a commitment to address and improve a course is all anyone can ask in this situation we're facing. Sibbald's priorities for the season have been directly impacted by Covid-19, and it would make sense that players re-align theirs, too.
8:13 – Hidden Lake is no different than most courses. Ball marks are a scourge at courses almost everywhere. I take time to help and get the greens as smooth as possible for the early groups coming out today. If we all did our part, grounds crew resources could be better allocated.
Golfers just need to do better.

Around every turn or at any moment, Sibbald is ready to expect…well, anything. After setting pins and heading back to the maintenance shed, we met up with the head mechanic who held out his hand and shared a broken part to an important piece of machinery. A quick inquiry made for some reassurances, as the head mechanic mentions to Sibbald, "Oh yeah, that's why I have about 6 of these parts around, I just wanted to make you aware, I'll get it fixed in no time". Sibbald advised that while all relationships are important, some may be just a little more so. "The relationship a Super has with their head mechanic may be one of the most important. Their role is so critical." Of course, an Assistant Superintendent too, but Sibbald stated, "I don't technically have an Assistant, but Vic is the closest I have and I trust her commitment and ability to get things done. She's shown great skill and initiative".
8:34 am – Irrigation issue on the 14th hole. Flag it for repair later in the day. Still 5 holes to cut. Learned that there is no master irrigation map on the course and Steve is dealing with 3 unique sets of irrigation infrastructure. The complexity of the role is really starting to show itself and we're only 3+ hours into my day.
Just flag it and move on. It's a priority item to be addressed once the pins are cut.

Over the course of the morning, there was time for some rapid fire questions:
What is the greatest challenge you've faced this year? A – "Covid-19 impacted my capacity to build a team the way I would have liked. Building a team is most important for any Super and this season created unique challenges".
What do you see is the greatest misconception people have about your role? A – "Many people think Supers act solely based on yesterday's or today's weather forecast. We plan around longer term forecasts and projections as well as conditions caused by recent weather".
Within your vision, what are priority areas for you for Hidden Lake? A –"Improving the bunkers and re-developing the irrigation system here are top priorities. There are other things we can do, and once I am back to a full staff complement it will be exciting to implement these". (He spoke to me about plans to improve practice facilities, which have been historically very popular).
What's your dream foursome and what course in Canada would you like to play? A – (laughs)" I like that question. I haven't been to Cabot so that's clearly an option but I'd love to play Redtail. Tiger, Freddie Couples and my Dad – that would be a fun round".
8:55 am – Dampness and a subtle sulphuric smell. There is a detailed scientific explanation why this soil sample is potentially problematic and presents the need for regular aeration of greens. Greens are, without a doubt, the most important component of any course. The order of fairways, bunkers, tee boxes and rough can be argued but maintaining the health and performance of greens is job one. Equipment like a moisture reader helps provide quick and accurate information, advising Steve and his team which greens (or sections of a green) need hand watering.
While the green looks like one of the more healthy ones on the course, it also shows signs for the need to aerate to support their sustained health.

Crazy stories? I guess most Superintendents would have them. Sibbald has experienced vandalism, where cart traffic on greens have broken and embedded pins; large stone hole markers pushed over; trees coming down and, as his social media posts have shown, divots taken from greens (for real). Ball marks are an issue at most courses and Hidden Lake is no exception. Witnessing pristine early morning greens, it is unfortunate the abuse they take over a day. The regular pin changes are simply due to the volume of play.
10:19 am – We've completed setting pins and already made time to meet the GM and Head Pro for a brief update. Throughout the drive back to the shed he'll point out features of the course he'd like to work on and discuss details on how this could be done. The science of it all is lost on me, but the passion for the work is exciting to experience. Back at the maintenance shed, Steve is taking time to share more on his vision for the courses…but also showing some of the unique challenges to achieve that, including this old map which shows the valve and control boxes throughout the courses. That map looks like it should be in a museum.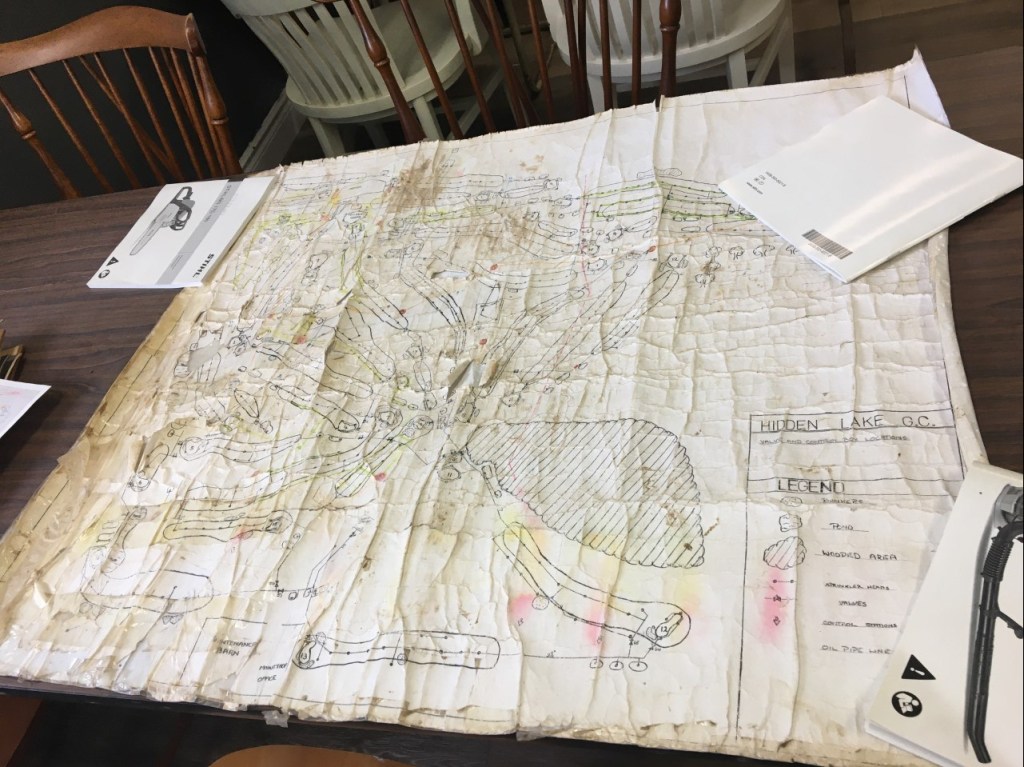 Throughout the day there was plenty of evidence for some systems updates. This old map (so brittle it seemed it would break if handled too much) still presents plenty of information but it was acknowledge it needs to be redesigned.

Earlier in the day I asked Sibbald, if you knew then what you know now would you have taken the job? His answer, to no surprise, stark and honest, "I won't lie, this job has been tough at times and I have had pause to consider that very question, but I am committed to this place. And the uniqueness of this year – Covid-19, challenges assembling a team – they make me even more excited for the future. I am happy to be back at Hidden Lake and am excited for the future of these two golf courses. I want to help build something special".
11:48 am – While Steve's day is not done, I offer my thanks and leave, allowing him to get back to that irrigation leak (and likely 3 other things he noticed but didn't comment on during our time together). Fortunately, one of his staff members, likely similar to Steve when he was younger, is showing promise and interest in this as a career path, and has taken the lead to assess and begin addressing the irrigation issue. She has been accepted into a two-year golf and turf management program at the University of Guelph. Having trusted relationships within the team is so critical for a Superintendent's success.
Steve Sibbald, first-year Superintendent at Hidden Lake Golf Club

He is gracious with his time throughout the morning. As a member I am proud I have someone who cares so much about their work and this course. Has it been an ideal start, and are the courses in ideal condition? No and no. But he shows a resolve and level of communication which I really appreciate. As a writer, I am privileged to get this window into the world of a Superintendent. It's messy, complicated and never mundane.
Covid-19 is a wildcard to all this which has taken any vision, any plans and made them practically useless, especially for a first-year Superintendent. Belacca, who is also in his first year at Hidden Lake, acknowledges the impact of Covid-19, "ClubLink has taken a very cautious approach to Covid to keep the staff and guests safe. Turf crew is working with a smaller crew size to limit the amount of contact and this can be a strain on getting things done around the course". My final question to Sibbald, what are most proud of since you began here? His answer, without missing a beat, "to my knowledge, everyone who's played has left healthy".
Reflections? There likely is no role in the golf industry less understood, less recognized and dare I say, less respected. Saying that, the job is a fluid one is an understatement and Sibbald and his staff all shared how they embrace that each day is different when you're maintaining a golf course. There are so many facets to the job; the science of agronomy, maintaining equipment, managing relationships with management and corporate, and members and public players, and of course the weather along with the unexpected. The responsibilities on the OGSA website seem like such an oversimplification now. But it is the intangibles, a passion for the game and for golf courses, the ability to treat people with respect, understanding that there is always something to learn, and opportunities to teach, knowing when to listen and when to talk. As players, we need to educate and inform ourselves on the scope and complexity of this role, and why things are asked of us which we may not like. No, they don't wear capes but there is a reason why they're Supers. To Sibbald and course Superintendents everywhere, thank you for the important work you do.
Setting pins allowed time to open a drain to help fill the pond on 9. A Super is always on watch and when there's a convenient opportunity to make improvements they act.
About the Author
Mildly addicted to the game of golf. Fiercely loyal. A planner, a dreamer, reflective and a proud and passionate Canadian. A father. A fiancé. A tree planter. A Trent graduate. A dog owner. Falling in love with my putter after many failed relationships. A scratch golfer stuck in a 10 handicap body. Love, love, love golf value. Fade on a good day. One ace (and seeking a second). A golf writer/blogger focused on public golf in Canada. Chipping away at my own Bucket List of Canadian golf courses. Click here to visit the blog.