Exclusive: Look Inside TaylorMade's State-of-the-art Fitting Lab
23 MAY 2018
By Adam Stanley

If you were to look at the most-played equipment week in and week out on the PGA Tour, TaylorMade gear would, more often than not, be at the top of the list in many major categories.
It's that Tour validation, according to TaylorMade Golf Canada President Dave Bradley, that helps the excitement of its full lineup of clubs and balls trickle down to many ClubLink Members.
"It's saying something that our technology works for Tour players but is also valid for amateur players of all handicaps," says Bradley, who is thrilled that TaylorMade will support ClubLink golfers in a number of capacities once again in 2018.
The biggest news from TaylorMade is that it has just opened its brand new, premium fitting facility in Toronto – just 10 minutes from the airport and 25 minutes from downtown. It's an idyllic combination of technology and support from TaylorMade staffers making sure ClubLink Members play their best this year.
And ClubLink Members will get a 20 percent discount on a TaylorMade fitting at its state-of-the-art facility all year long.
The facility has three hitting bays with Gears and Foresight technology, to help TaylorMade custom fitters make sure ClubLink Members are getting the absolute best out of their equipment. It also features a one-of-a-kind putting bay, with an adjustable putting service.
Gears measures and analyzes every part of a golfer's swing, in full 3D. Using the same technology as filmmakers and biomechanics, Gears claims to be the most advanced motion capture solution developed specifically for golf, while Foresight is one of the foremost names in launch monitor technology used by some of the best golfers in the world.
"We've got a complete fitting option, where you can use the bay to get fit for drivers, irons, and wedges, and use the amazing putting facility as well," says Bradley.
ClubLink Members can also enjoy the same 20 percent discount at the MAT-T (Motion Analysis Technology by TaylorMade) performance lab at Glen Abbey Golf Club in Oakville, Ontario.
The opportunity to get custom fit at the MAT-T lab remains a thrilling one for ClubLink Members who have maybe only had a chance to visit the golf course during the Canadian Open itself, according to Bradley, who says golfers have the special opportunity to spend time on the driving range after a fitting session to see some immediate validation.
"You can watch the flight conditions of the gear you just got fitted for, which is a big-time benefit to Glen Abbey," says Bradley. "It's still a great experience."
New for 2018
ClubLink (CL) chatted at length with TaylorMade Golf Canada president Dave Bradley (DB) about some of TaylorMade's gear for 2018, and why it's the perfect fit for any ClubLink golfer's bag.
TP5/TP5x Ball
CL: It took about five years before TaylorMade launched another five-layer ball, but the TP5 and TP5x have been so well received in their short history. While the TP5 has a softer compression on the core and the TP5x feels firmer and has a higher launch, both balls generate massive speed on full shots, with a contrasting cast urethane cover and semi-rigid inner cover, creating a neat interaction between the cover and club grooves resulting in exceptional spin.
Why should a ClubLink Member think about a TaylorMade ball this year?
DB: (Golf balls) have become one of the largest parts of our business and in a short timeframe. We have got a range of balls, starting with Tour Balls that are just as good or better – depending on what you're looking for – than any other manufacturer's Tour Balls on the market. They are for every range of swing speed and if you're looking for a softer ball or a lower-spinning ball, TaylorMade has them. It's not just about having one or two choices in the market place; it's about having multiple choices.
In golf balls we've got six varieties in a wide range of prices depending on what you're looking for in spin, durability, distance, etc.
Hi-Toe Wedge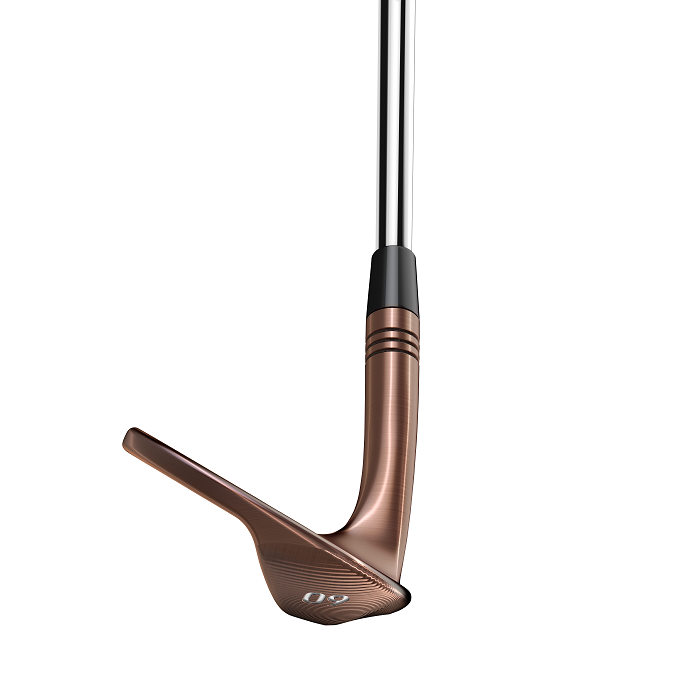 CL: The new milled grind Hi-Toe wedge delivers optimal short-game control for all the shots a golfer may need around the green. It has a higher centre of gravity to help golfers launch the ball lower, while generating more spin and control from a variety of lies. As a result, it's a wedge that gives golfers an increased confidence standing over the ball.
What's been the Tour adoption to such a great product?
DB: When (Dustin Johnson) won in Hawaii, everyone was focused on just how far he was hitting the ball. He's a bomber and launches it like no one else. But what won him that tournament is the Hi-Toe wedge. Wedges are sexy on Tour (laughs) but I'll tell you, every one of these guys has a Hi-Toe wedge in their bag: DJ, (Jon) Rahm, Rory (McIlroy), and Jason Day.
M3/M4 Metalwoods
CL: Some new technology for this year in the M3 and M4 drivers, fairway woods, and hybrids, with the introduction of Twist Face technology, delivering a corrective face angle for hits off-centre for longer, straighter shots.
It sounds like something every golfer could use, but it's not just for higher handicappers looking to improve their accuracy off the tee is it?
DB: All the time and effort and energy and (Research and Development) and the science that goes into us making the products really get validated on the PGA Tour… these last couple of years really showcased, for us anyway, and a lot of consumers the viability of our product. There are a lot of PGA Tour golfers who came off contracts with other companies and who didn't have a contract with us who are using our product. Even right now, if you look at the top nine of 10 in terms of Strokes Gained: Driving (a PGA Tour statistic), they are all using a TaylorMade driver, and only five are actually under contract to do so.
M3/M4 Irons
CL: Another fresh lineup with some new technology, the M3 and M4 irons have incorporated RIBCOR technology, which works in tandem with TaylorMade's Face Slot Technology to help increase ball speed across the entire face. This new technology helps enhance distance, tighten dispersion, and improve sound and feel.
It sounds like irons are another category where TaylorMade is really producing some excellent products for 2018?
DB: It starts on the PGA Tour, but those technologies that are prevalent on Tour, in our products, are also available for the 26-handicapper, the 13-handicapper, or the single-digit golfer. We make forged irons for the one percent of golfers, sure, but we make all kinds of irons depending on what you're looking for.
Shop M3/M4 Irons
ClubLink Events
TaylorMade will be hosting Mega Fitting Days at a number of ClubLink facilities this summer including:
June 15-16 – Station Creek Golf Club (Markham)
June 29-30 – Le Fontainebleau Golf Club (Montreal)
July 13-14 – Rocky Crest Golf Club (Muskoka)
To learn more about the Fitting Days, click here.