The Shag Bag: Another Reason to Stay in School
12 DEC 2018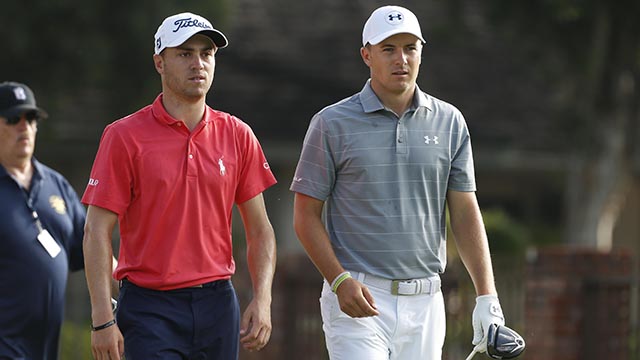 The Shag Bag is a weekly compilation of amusing stories and anecdotes from the wacky world of golf.
Another Reason to Stay in School
Last week, Golfweek reported that the PGA Tour is developing a program to reward top-level collegiate players who play out their entire NCAA eligibility with access to PGA Tour sanctioned events. The report suggests the access would span the gamut of PGA Tour circuits, from developmental tours like the PGA Tour China and PGA Tour LatinoAmerica to the more advanced Web.com and PGA Tours. Although the details of the proposed policy remain vague, a PGA Tour official corroborated the report with the following statement: "The PGA Tour has been working to develop a new program that will identify, prepare and transition top collegiate players to professional golf." The policy appears to be a deliberate response to the growing number of collegiate players in recent years that have abandoned their teams midseason to pursue professional careers. Jordan Spieth and Justin Thomas are two of the most successful young golfers on the PGA Tour and both left college before graduation; Spieth mid-way through his sophomore year and Thomas after his sophomore year. Last month alone, seven top-ranked female NCAA golfers attempted to qualify for LPGA Tour Q Series in the middle of the season and just last week, 21-year-old Alabama Crimson Tide standout Davis Riley announced he would be skipping the upcoming spring season to pursue his PGA Tour card. No details have been released concerning when the policy might come into effect.
The One Club Challenge
There wasn't much elite professional golf on television last week so late into the calendar year, but there was a handful of top-level talent squaring off in Florida at the QBE Shootout. The tournament, which consists of 12 two-player teams, produced some interesting pairings, including the duos of Bubba Watson and Harold Varner; Kevin Na and Bryson DeChambeau; and Lexi Thompson and Tony Finau, who were playing in the event as teammates for the second year in a row after tying for fourth last year. Thompson and Finau played well as a team again this year, finishing the week in seventh place at 32-under par. But the highlight from the pair of long hitters occurred in their practice round on Thursday when they competed against one another in a one-hole, one-club match on a 362-yard par 4. The hole was playing downwind and, prior to hitting, Finau admitted that he thought about pulling out a driver and going for the green off the tee. Ultimately, both players chose clubs they could cover 180 yards with twice—a 6-iron for Thompson and a 9-iron for Finau—and still overshot their marks by 15 yards. That left three-quarter swings for each player, a shot that Finau converted with his 9-iron, sticking his ball to approximately six feet. Thompson missed the green on her approach but recovered nicely with a tidy chip over a runoff to just three feet.
Finau pulled his bladed-iron putting attempt left and both players tapped in for a well-deserved tie. Anticlimactic? Perhaps. Entertaining? Absolutely!
Trick Shots of the Week
Congratulations to this trick shot wizard for banking his ball off of two walls into a beer mug while balancing on a skateboard. To be fair, he probably attempted this 1000 times before he got it right.
Our second trick shot of the week award goes to NFL Hall of Fame quarterback Dan Marino. I guess when you're retired you have a lot of time on your hands to practice shots like these.
What Is Going On Here?
We have seen quite a few odd golf swings over the years, but this guy's swing might be the worst of all time.
Getting in the Holiday Spirit
The IT department brought their 'A' game to the decorating competition here at the ClubLink head office.