See What's Going on in the Turf Building This Week
25 FEB 2021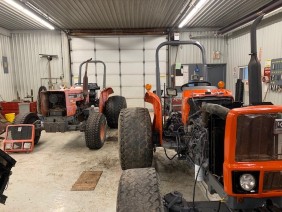 With the heavy snow falls we have been somewhat locked in the shop the last week. This is not necessarily a bad thing as one of our focusses is equipment. Everything from cosmetics, intense operator safety, and big and small repairs...even every radiator being flushed is part of winter equipment maintenance.
One of the back bones of the turf operation is our equipment fleet. Our 'go time' is so intense that we can't afford any substantial down time. We do not necessarily have spare equipment to fall back on. There are days that close to all over 120 pieces of equipment are in action making the course ready to play for you. Reels (60+) have to be refurbed and ground, all preventative maintenance (lubricants, filters, safety checks, and tires replaced, and brakes adjusted and replaced as needed), cosmetics (super clean, paint and shine), repairs (small leaks, hydraulic hoses replaced as needed, bushings and bearings checked and replaced), radiators flushed, even tracks replaced on our track loader are just some of the areas we look at.
In our shop this week are both mechanics Paul Hanna and Mark Bernardo plus Dylan Gingerich, Christine Kumagai and myself. It's definitely busy in there and we are putting some big dents in the list!
Please take a look at some of the photos of 'what's going on in the shop' this week.
Before and after radiator refurb!
Bill McAllister, Golf Course Superintendent