The Larry O'Brien NBA Championship Trophy stole the show at the ClubLink Men's Night Championship
01 OCT 2019
The Larry O'Brien NBA Championship Trophy stole the show at the ClubLink Men's Night Championship.
At first some competitors thought the golden trophy depicting a basketball over a hoop and basket might be a knock-off for the winning team, but when they learned it was the real thing, "We are the North" took on new meaning as it sat on the back patio of the Grandview clubhouse overlooking the first fairway.
"This is the coolest thing, I never thought I would get to see it this close," says Andrew MacIssac from Cherry Downs, who enjoyed having his photo taken with the trophy, as did most of the other 100-plus Members. "I'm a big Raptors fan, so for ClubLink to get this up here is awesome. It's been a fun day of golf hanging out with and meeting other ClubLink Members. To see the trophy, it makes you feel like a winner."
Actually, it was ClubLink Member and Raptors radio play-by-play announcer, Paul Jones, who brought up the trophy on his celebration day for a once in a lifetime opportunity at Grandview, because there's no guarantee the Raptors will be bringing this trophy back to Muskoka anytime soon. Guys came back a second and a third time just to have another look to make sure it was real.
"I'm taking it on a little tour so I can share it with my family, all my basketball buddies and some ClubLink Members," says Jones, who also dropped by King Valley for Men's Night with it among a couple of other clubs.
"I really like the new trophy ClubLink has for the Men's Night Championship. It will look great in my living room for the rest of the year," Emerald Hills Member, Don Adamson said with a smile and laugh as the winning team. Sam Yang, Rick Matheson and Ranjit Rana, gathered around the trophy for a priceless photo.
"Wednesday Men's Night at Emerald Hills is terrific at the club and the social aspect is excellent. We have gone from 50 guys to well over 100 and that's a great accomplishment for the club," Adamson adds. "To come up to this beautiful course and celebrate the end of the season with these guys is a lot of fun. The trophy makes it extra memorable for all of us."
Each Member of the winning team that finished at 16 under par picked up $400 each in ClubLink gift cards. There was a tied for second at 12 under between Syl Bruni, Lincoln Garraway, Ilario Melia and Gerardo Contardi from The Country Club and Greg Smith, Stephen Chan, Ossie Ramirez and Reid Ferguson from Station Creek. Each Member of those teams earned $250 each in ClubLink gift card credit, while Lake Joe slid into fourth spot and Grandview rounded out the top five.
The day started with the ClubLink $500,000 Hole-in-One Shootout on No. 15 at Grandview with only a handful of the 22 competitors hitting the green from the 162-yard tee markers.
As Rob Stewart headed to the tee, the GreyHawk Member had only one thing on his mind.
"It is nerve racking stepping up there in front of the guys with $500,000 on the line," says Stewart, who was taking part in the shootout for the first time. "The main thing I had on my mind was just trying to make contact with the ball. The last thing I wanted was to dribble the ball off the front of the tee."
"I was really happy with the shot. If I can do that on all of the par-3s for the rest of the day it well be a great day," says Stewart who won $500 in ClubLink gift card credit for the winning shot that finished 18 feet from the pin. "I'm actually surprised that I won it. I thought someone would get it in closer."
Second place in the shootout went to Aud Eimantes from Eagle Creek at 22 feet, followed by Peter Gee from RattleSnake Point at 24.7 feet with Sam Yang from Emerald Hills and Pat Cilla from National Pines rounding out the top-five.
"Let's call it what it is, a lucky shot. I was about one of five guys who hit the green, but it's a lot of fun trying, and I get to take some ClubLink cash home," says Aud Eimantes, who finished second. "I love this whole thing. It's a great event and a terrific way to close out men's league. It's a blast every time."
And in the Men's League Long Drive Championship, Denis Schofield from Glen Abbey came out of nowhere to clinch the title.
It appeared that Paul MacKay from Grandview had it in the bag after leading the qualifying round with a drive of 306 yards into a steady breeze on No. 18 – although his first of two shots went way out of bounds. Sitting in second after the qualifier was Greg Spencer from GreyHawk at 286 yards, followed by Attila Nagy from RattleSnake Point at 279 yards, Brian Shultis from National Pines at 279 yards, Schofield at 273 yards and Graham McCulloch from Glencairn at 272.
Perhaps the happiest golfer of the shootout was Lou Licari (271 yards) who out-drove his buddy Peter Pettit (270 yards) by a single yard for bragging rights. Most honest golfer went to Tim Sittler from Lake Joe who bounced both his drives off the tee deck and into the brush at the front of the tee. He'll be trying to get those out of his mind for a while!
However, in the final round only two of the six big hitters improved on their drives from the first round as McCulloch improved one yard to 273 yards and Schofield improved two yards to 275 yards for the win to earn $500 ClubLink gift cards, as the rest of the guys struggled.
"I feel a little lucky to get away with that one, but I hit the shot that I wanted down the right side and then I just had to wait to see if it was long enough. Some of the guys who came after me didn't hit it as well as they did in the first round, especially the guy who put it over 300 yards," says Schofield, who won the ClubLink $500,000 Hole-in-One Shootout in 2018 at Grandview with a shot that finished an incredible six inches shy of the pin.
"I'd say last year and coming so close to winning $500,000 was really exciting. That feeling is hard to beat, but this is pretty sweet," says Schofield, who didn't qualify for the shootout this time around.
After finishing second last year in the long drive, Greg Spencer was hoping for big things this time around. His two opening drives of 286 yards each had him pumped as he slotted into second spot in the qualifier.
"I'm disappointed to finish third this year because there was an opportunity there for me to win it. I didn't have my stuff in the final round with a couple of slight misses, so I'm happy with third if you know what I mean and we'll see what happens next year, because I can hit the ball further than I did today," says Spencer, who finished third at 272 yards. Fourth place went to Shultis at 263 yards followed by Mackay at 262 yards and Nagy at 260.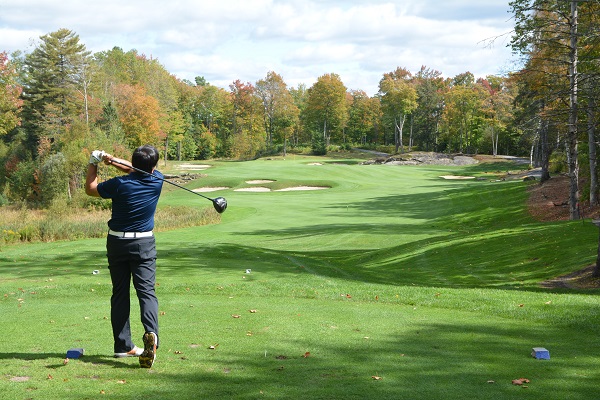 "It was a lot of fun. I certainly felt the nerves in the second round. I think I let the pressure get to me in the final. I hit three bad shots," says Shultis, a first-timer in the shootout. "I'm just glad to be part of the day and as long as we can go out and beat Bond Head that's all that matters."