Handicapping Corner
14 APR 2022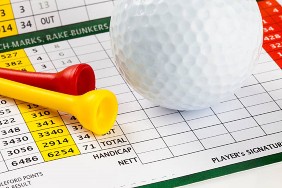 "Handicapping Corner"
Welcome to the 2022 golf season!
This season, we will provide you a series of articles in each newsletter about handicap principles, rules, calculation, and general information.
To kick off the season on the right foot, please use the Golf Canada App to enter all your scores. Your Golf Canada profile displays the number of rounds you've played, your current handicap, and there is even an option to track your stats. Please email rapro@clublink.ca if you need your Golf Canada login credentials.
Golf Genius is used for all member events and scores are posted to Golf Canada Score Centre for handicapping purposes. For other golf game scores, please use the Golf Canada App to post those scores.
Handicap Basics
Handicap index is a measure of your potential and creates an equal playing field and with that in mind, the below information is the first of many topics we will cover this season. We hope you find it insightful and please look for more Handicap articles in future newsletters.
Minimum Number of Scores to Get a Handicap
Maximum Score for Handicap Purposes
Maximum scores for each hole is net double bogey, which is par score for that hole plus two shots plus any strokes you may get on the hole.
Active Season
The Active Season varies from place to place. In Ontario the active season for Handicap purposes is from April 15 to October 31. All games played should be posted in the Handicap System and the system will automatically determine if the course played has been played in the active season for that location.
Please contact your handicap committee members if you have questions, need clarification, or have suggestions.
2022 Handicap Committee Members
Sincerely,
Brian Gore
Handicap Committee Chair
PS: A good resource for Handicap Information can be found at Golf Ontario's YouTube channel: https://youtube.com/playlist?list=PL5EcJUWu9gwxsJc_iVoSzyuIpFpIgd384
Golf Ontario's Handicapping Resource page: https://www.gao.ca/about-handicap/