Golf News
10 JUN 2022
Club Events Upcoming
We have many exciting events upcoming and please click HERE to see the full list of events and for more information.
Corporate Tournament: Monday, June 20th - CopperHead, SideWinder, and Rattler unavailable.
Women's Member Guest: Tuesday, June 21st – please click HERE for more information.
Canada Cup: Friday, July 1, 2022 – please click HERE for more information.
Men's Member Guest: Thursday, July 7 & 8 – please click HERE for more information.
Please contact the Pro Shop (RAPRO@clublink.ca) or Steve LeBlanc, Head Professional (sleblanc@clublink.ca) if you have any questions or need assistance.
RattleSnake Point GC Wins ClubLink Tournament of Champions – May 24, 2022
The Tournament of Champions presented by Titleist and FootJoy for the GTA Region was held on May 24, 2022 at The Country Club in Woodbridge, ON.
Please congratulate your RattleSnake Point team pictured above (L-R: Malcolm Glumpak, Mary Miller, Steve LeBlanc, Hansika Tathgur, and Tate Smith) for battling the many other Clubs to bring home the trophy.
Steve LeBlanc commented the team persevered although their score was +4 after a slow start. However, like all great teams do, they banded together, formulated a strategy, focused on their goal, and performed under the pressure to roll in birdies, scramble, and ultimately conquer the event as the 2022 Champions. The Team started on hole 15.
Please click here to see a great video summary of the event.
For final standings, please click here.
122nd USGA US Open Final Qualifier
Thanks for making the 122nd US OPEN Championship Qualifier on Monday, June 6, 2022, a success.
We could not have done it without the help from all our volunteers and we appreciate their help very much.
Below is a list of all the volunteers who kindly donated their entire day (5AM-9PM many of them) to support the Club and this event.
Volunteers:
Andrew O'Beirn, Arlene DiGiovanni, David Mamon, Graeme Norval, Greg Bright, Ingrid Mamon, Larry Tenuschuk, Lyna Newman, Mark Ettridge, Mark Sturrock, Otto Trozzolo, Pat Thody, Paul Mondell, Paul Stulberg, Paul Uchikata, Rob Stapleford, Ramesh Bharkhada, Grant Gerow, Nancy Wagner, Greg Gallant, Jim Putz, Mark Hayes, Paul Oude-Reimerink, Rui Malhinha, Linda Eastwood.
LEVELWEAR
Levelwear kindly provided the red and white uniforms for the many staff and volunteers to show our Canadian pride hosting this prestigious USGA US Open Qualifier event.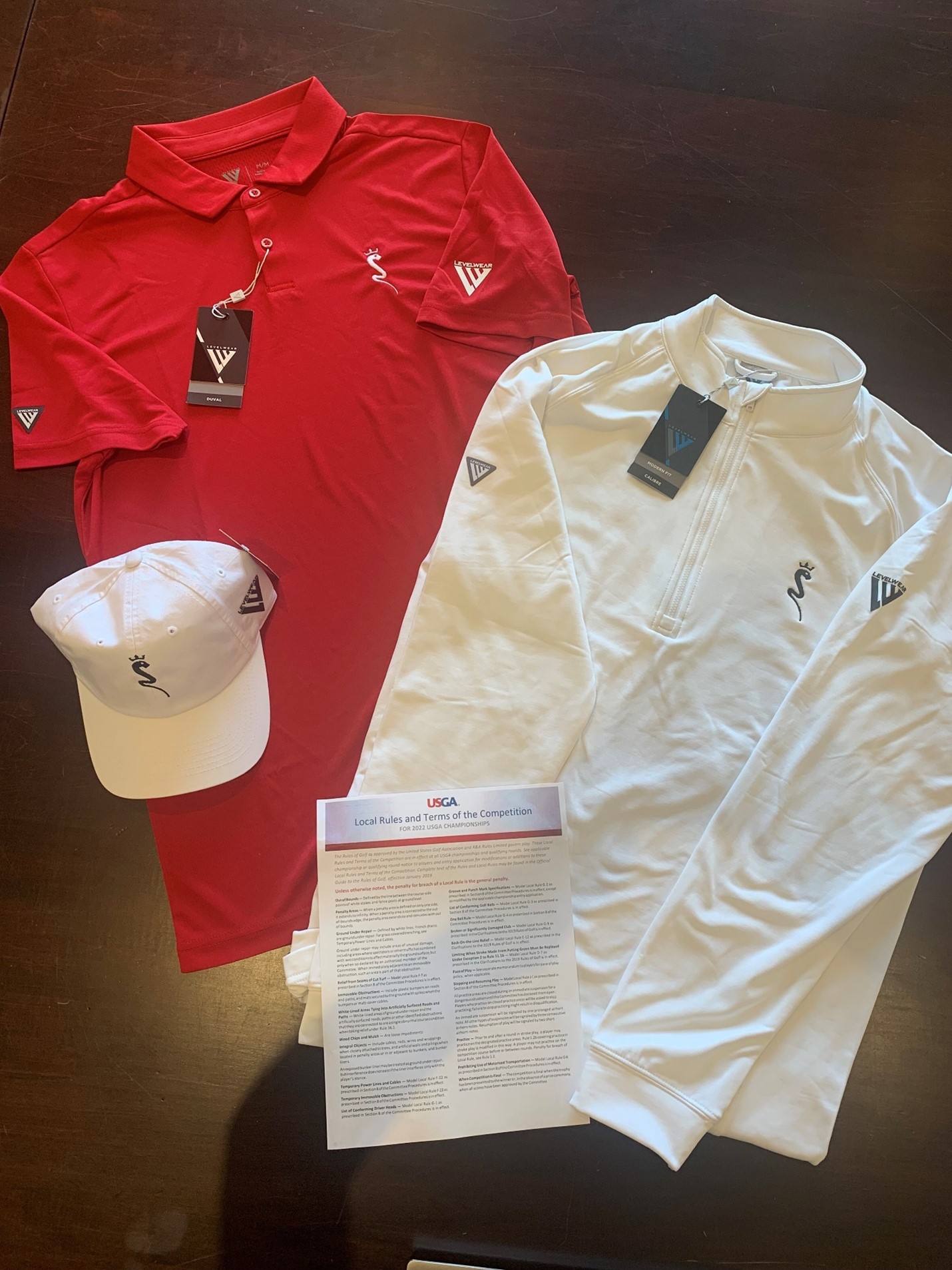 We are the first Canadian golf course to host a USGA US Open Qualifier event (2019) and were proud to host it again, after 2 years of COVID restrictions.
Article from Golf Digest:
RattleSnake Point Golf Club (CopperHead Course) - Milton, Ontario • 25 players for 3 spots
Jonas Blixt might have spent the last decade on the PGA Tour, but he was an unlikely medalist out of Canada's lone Final Qualifying event. The 38-year-old Swede has been playing the 2021-22 season on a medical extension—and playing poorly. He's made just two cuts in 13 starts. In 2020-21, he made only three in eight starts after missing the entire 2019-20 season. His best finish in 2022 is a T-42 at the AT&T Pebble Beach Pro-Am, and he has just two more starts to earn enough points to keep his card through the rest of the season.
In the face of all those struggles, Blixt somehow strung together rounds of 67-65 (10 under), making two bogeys on a rainy day, to earn top honors just outside of Toronto.
Blixt finished one stroke clear of England's Callum Tarren and Japan's Satoshi Kodaira, who claimed the other two qualifying spots from RattleSnake Point with matching nine-under totals. Tarren, a 31-year-old PGA Tour rookie, will be playing in his second career major after qualifying for the 2019 U.S. Open (and missing the cut) as an amateur. Kodaira, 32, will be playing in his 11th career major and third U.S. Open, his best previous finish a T-46 at Erin Hills in 2017.
The best performance among the nine Canadian golfers in the field came from Jared du Toit, who shot a seven-under 135 to claim the first of two alternate spots. The other went to Derek Bard.
Adopt-a-Hole
Now that the course has really started to green up and grow, it is important that we each do our part to maintain the course in a condition that we can all be proud of — after all, we are in this together!
We are pleased to announce the launch of our Adopt-a-Hole initiative that we hope will inspire all members to do "a little bit more" to ensure the course is kept as pristine and beautiful as it can be. The concept is simple, many hands make light work.
As you can see, we have assigned a hole to a group of Members based on the first letter of your surname. This hole is now yours to nurture; please do your best to take every opportunity to make it the best conditioned hole on the golf course.
You can help by ensuring that the tee boxes remain free of broken tees, and that divots are filled. Please replace your divot on the fairway and empty your sand and seed bottles to fill as many others as you can. Once you arrive on the green, please be sure to fix your ball mark, and a few others for good measure.
Doing your part will help make the course a place you can be proud to call your own. And of course, be sure to keep track of which holes belong to your playing partners and keep them accountable to their holes and that they follow your lead.
With your support and effort, we can make 2022 the best turf conditions RattleSnake Point has seen to date. It is certainly a reachable goal if we work together.
Best Regards,
Craig Cupido, Director of Operations, RattleSnake Point Golf Club

DRINKING WATER ON FIRST TEE
Summer is almost officially here, and we have seen several very warm days over the past month.
For health safety reasons, self-serve water coolers have not been on the golf courses since COVID began and will remain that way this season.
Please bring a refillable water bottle and utilize the water refill station behind the Halfway House.
For days expected above 27 Celsius, we will provide complimentary bottles of water at the Starters station to help keep you hydrated and safe.
If you are not near a water bottle station or it is empty, please contact the Golf Shop team and they will dispatch someone to replenish the cooler and provide you assistance on the golf course.

Fitting Days:
Golf club fitting days for the 2022 season are hosted on our driving range at no cost to ClubLink Members.
If you are interested in trying the latest golf equipment, please see below links for more information and registration.
If you have any questions or need to order equipment or merchandise, please contact Chris Forgan at cforgan@clublink.ca.
Callaway: TBD
Ping: July 7 - Please email Chris Forgan to book.
FootJoy Shoe Trade-In:
Monday, June 20 – Corporate Golf Tournament
We drastically reduced the amount of major corporate tournaments for the 2022 season and also holding them on Mondays to minimize impact to our Members.
On Monday, June 20th, we will host 600 people for golf, lunch, and dinner, which will unfortunately mean CopperHead, SideWinder, and part of the Rattler golf courses will be used.
RattleSnake Point only tee-times will be reserved by the many other surrounding ClubLink properties for you to book. If you encounter challenges finding a tee-time, please contact Vincent Roopchan (vroopchan@clublink.ca) or the Golf Shop or Member Services for assistance.